Andover Patio Centre
01264 323368
- Building supplies and Garden supplies company in Hampshire
Delivery Services
To enquire about skips, patio paving slabs, fencing, walling, aggregates, sheds, bottled gas, barbeques, patio heaters & other gas appliances, enter your details below & we'll contact you:
Gas Appliances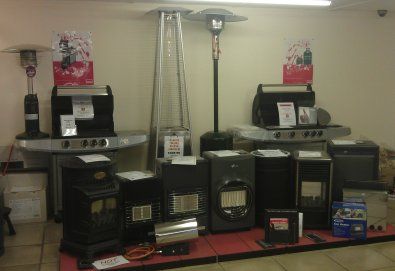 We supply a selection of gas appliances and gas equipment from our showroom in Picket Piece, Andover where our sales staff can help you choose the right gas appliance for your needs.
We keep gas equipment in stock for almost any need including gas blow torches, gas camping stoves and gas lights from Bullfinch, Primus, Coleman, Camping Gas and Sunn Gas. Also in stock are LPG Greenhouse heaters and LPG regulators and general gas replacement fittings for many appliances. There is so much here, so come and visit us.
Have an enquiry about any of our gas appliances or replacement gas fittings? Need some advice? Click here to contact Andover Patio Centre, where one of our sales staff will be happy to assist.
Come and visit us at Picket Piece, Andover, Hampshire - through Walworth Industrial Estate and next to The Commercial Centre we have ample free parking where you can collect your gas appliances with ease. We also offer a home delivery service so please ask for details.