Gas and Gas Products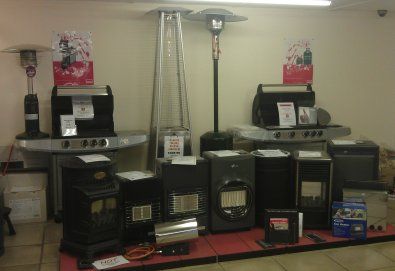 We are gas suppliers in Hampshire. You are very welcome to visit our shop in Andover, where we supply the following gas and gas appliances to homes and businesses in Hampshire, Berkshire and Wiltshire:
Air Products industrial gases inc.
Automotive gas for forklifts
Barbeques
Patio gas
Butane gas
Campingaz
Caravan heater gas
Gas barbecues
Gas blow torches
Gas camping stoves
Mobile gas heaters
Large patio heaters
LPG Greenhouse heaters
LPG regulators
Mock-coal burning stoves (gas fires)
Office gas heaters
Patio heaters
Propane gas
Pub gases and beverage gases - CO2 and N2
Table-top patio heaters
---
Bottled Gas Deliveries
We can deliver your bottled gas and Air Products direct to your door or you can collect from our store - the choice is yours. We welcome you to call us on 01264 323368 to check our delivery areas and stock where our friendly staff are always on hand to help you.
Knowledgeable Staff
Our knowledgeable staff are available for all our customers, so if you have any questions about which gas to use in a particular appliance or need some gas for your patio heaters and not sure which one to use, let us know and we can help you choose the correct type of gas and matching appliances. There are many types of gas and they are used for different appliances so it's always best to check you're buying the right one for the job!
We are official suppliers of Air Products industrial gases so we have a wide range of Air Products gas from which to choose. These gases include oxygen, nitrogen, argon, helium and hydrogen for medical and speciality gases to welding and cutting gases for industry use, all of which can be delivered in bulk to your site.
View more on Air Products industrial gases
---
Calor, Butane and Propane Gas
As Calor Gas main dealers in Hampshire, we stock and supply a large selection of gas cylinders in a variety of sizes for butane, propane and automotive gas.
View more on Calor gas - butane gas and propane gas
---
We supply a small range of gas barbeques to get your taste buds going. So come and visit our showroom in Andover and view them up close. We also have a range of gas patio heaters - perfect for all types of British weather! Patio heaters are designed with ease of use and have temperature controls to get the most ideal heating to create a warm and inviting setting for your outside space. Our patio heaters use propane patio gas - all of which we stock. So as well as supplying the gas BBQs and patio heaters we also supply the gas for them too!
View more on our barbecues and patio heaters
---
Campingaz
We are stockists of Campingaz. Campingaz comes in the characteristic blue metal containers and is a brand of fuel gas that is compressed to a liquid comprising of a mixture of butane and propane gas. We supply Campingaz in 901, 904 and 907 canisters, - whichever suits your needs best. Ask our staff for advice if you're not sure which sized gas canisters you need. Campingaz is ideal fuel while camping and caravanning.
Ask us about Campingaz
---
All licensed trade premises, such as pubs, bars, hotels and restaurants, that sell draft beverages like beer or lager require particular pub gases. We supply and deliver pub gases and beverage gases direct to the door. Our beverage gas is supplied as CO2/N2 mixtures for licensed trade premises. These gas mixtures of CO2 and N2 have an effect on beverages. For instance, Carbon Dioxide (CO2) makes beer gassy whilst and Nitrogen (N2) makes the beer creamy. As well as delivering pub gas to your licensed premised, we also collect the empty cylinders too, so you can spend more time with your clientele and less time in the cellar.
View more on our pub gas services
---
Andover Patio Centre supply the following CO2/N2 Mixtures:
30/70 is a 30% carbon dioxide/70% nitrogen mixture widely used for dispensing a range of stouts and ales
60/40 is a 60% carbon dioxide/40% nitrogen mixture used for dispensing highly carbonated lagers and ciders
CO2 is used for dispensing carbonated drinks
---
Gas products
We have a wide selection of new gas products and gas appliances with all the associated gas equipment that you would need for each item we have for sale. Our gas showroom is in Picket Piece, Andover. We're in the same building as the Post Office which is at the entrance of The Commercial Centre so there is lots of free parking. For your convenience we're also open 6 days a week. Within our gas equipment showroom you can view the following gas fuelled appliances and our experienced sales staff are happy to help and advise. We can help you choose the right gas products and appliances for your needs whether it's for heating gas, barbeques, camping gas, caravan gas and home or office gas heaters. We stock:
home gas heaters
mock-coal burning stoves (gas fires)
office gas heaters
gas barbecues
large patio heaters
table-top patio heaters
---
As Calor Gas agents, we keep gas equipment in stock for almost any need including gas blow torches, gas camping stoves and a selection of gas fittings. Also in stock are LPG Greenhouse heaters and LPG regulators and general gas replacement fittings for many appliances. There is so much here, so come and visit our showroom to speak to one of our Calor Gas and Air Products agents.
---
Gas sales centre
Have an enquiry about any of our gas appliances or replacement gas fittings? Need some advice? Contact our gas sales centre at Andover Patio Centre, where one of our sales staff will be happy to assist or fill in the form below.
Come and visit us at Picket Piece, Andover, Hampshire - through Walworth Industrial Estate and next to The Commercial Centre we have ample free parking where you can collect your gas appliances with ease. We also offer a home gas delivery service so please ask for details.